It takes a diverse and wonderful group of folks to keep the Cherokee Heritage Center going, and here is a brief rogues' gallery of staffers I was lucky enough to photograph at a recent event. Other photos will be posted as I can trick people into sitting still for a few moments in front of the camera's blinking eye.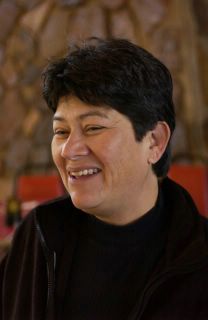 Tonia Weavel, Director of Education, superb organizer and teacher, positive and enthusiastic force for the Center
Ami Maddocks, PR and Special Events Coordinator, woman who makes things happen that are astonishing in their complexity and level of detail
Will Burgess, IT genius and general man-who-keeps-the-whole-place-from-falling-apart
Cora Lathrop, warm-hearted woman who makes sure that you don't spend more than you bring in, and general enforcer of the Heritage Center Laws!
Zach Ford, man of infinite patience and good cheer who keeps the grounds looking spiffy and welcoming
Tom Mooney, archivist and general authority on everything that happened back before bicycles had wheels
Chrissie Moore, accountant and totally professional manager of the books
Will Lowe, ex-Marine, softball star, and master of the membership rolls here at the Center
Sam No-Fire, Cherokee elder and keeper of the cultural flame
Kathryn Roastingear, museum store coordinator, always smiling, and keeps everything upstairs in perfect order
Rachel Dew, interpretive guide for the ancient village, basketmaker, and lovely lady!
Susan Cro, administrative specialist, cheery staffer, and person who gets things done when they need doing
Gene Norris, genealogist, and person who can definitively tell you that your great-grandmother was definitely NOT a Cherokee princess (because there weren't any!)
Mickel Yantz, museum curator who makes the impossible possible, lover of great Seattle coffee, and first-rate guy
Perry VanBuskirk, manager of the ancient village, expert on Cherokee culture, craftsman who specializes in blowguns, stickball sets, and numerous other things of beauty
Mel Phillips, grantwriter, person of infinite good humor, snappy dresser, and first-rate dad
Kathy VanBuskirk, receptionist, master basketmaker, wonderful cook and baker, and keeper of Cherokee culture and language
Becky Adair, education coordinator, woman of infinite grace, good cheer, exceptional talent, and she-who-makes-sure-education-events-are-done-according-to-plan. Posted by Seth, and no, it's no coincidence that my photo is nowhere to be found!