Archivist Tom Mooney, Interpretive Specialist Rex Smith, and Marketing Director Seth Davidson met in Houston the week before last to tour the private museum collection of board member K.S. "Bud" Adams, Jr., and to make a presentation to the Cherokee Cultural Society of Houston.
Thanks to the hospitality of Mr. Adams and of Mrs. Marjorie Lowe, we were able to meet many people interested in the Center's mission, and to learn more about the Houston society. Rex gave a wonderful cultural presentation, explaining the use and construction of traditional bows, arrows, blowguns, pottery, and baskets.
Click here for photo gallery of the trip
.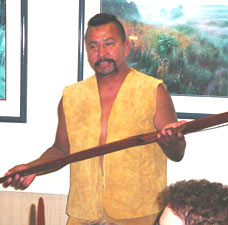 Rex Smith in Houston